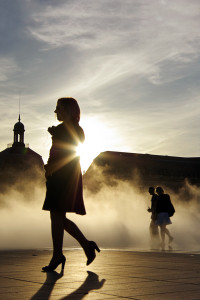 I've been thinking lately about the first time someone called me fat. We were in our high school parking lot, and I said something he didn't like, and he shot back at me "Shut up, you fat bitch".
I don't remember who it was, or when, or what I said. What I remember is that I had spoken up, and he responded by going after my body.
This memory first came back to me after the operatic dustup a few weeks ago during which a reviewer wrote unnecessarily about a singer's physique while downplaying her enormous skill as a performer.
That reviewer quite clearly went after the body of the mezzo-soprano in question. It was as if because she was willing to go on stage and open her mouth, he had carte blanche to scrutinize and criticize her form.
If you put yourself out there, if you speak or sing, someone will feel as if they can come after your body.
That's where this reflection was going to end, until the recent shootings in California brought a subculture of violent misogyny to our attention. At some point (or has it always been this way?) our bodies have become fair game. Too many men feel free to criticize, assault, maim or even destroy female bodies.
And no, not all men do horrific things, but I refuse to let men off the hook because their behavior falls on the tamer end of the objectification spectrum. If "all" you do is rate women's bodies, or nag a woman for a date, or bad mouth a woman who "should" have had sex with you, or insult women by calling them "fat", you are still contributing to the problem.
If I hadn't spoken up in the parking lot that day, if that singer hadn't taken the stage, would we somehow be safe from those who are coming after our bodies? Maybe you're thinking "yes, you would be safe if you would only silence yourself and submit".
No amount of submission will make our power go away, and it is our power that enrages the wrong kind of man. So own your power. Keep speaking up, keep singing, keep daring the world. For now that makes us vulnerable, but I believe there will be a day when we can be valued for our contributions without naysayers trying to bring us down or worse, coming after our bodies.
Image by Nikopol (Phillip Maiwald) (Own work) [GFDL or CC-BY-3.0], via Wikimedia Commons