On this fourth Sunday of Lent, many liturgical Christians will shed their purple, don some rose, and heed the call to rejoice.
Naturally, I feel some pressure to match my clothes to the liturgical calendar, especially since I always spend Laetare Sunday conducting a choir and attending a brunch at a large alumni event for my alma mater. There have been a few pep to pink dresses in the rotation for the last few years.
This year I wanted a change, so I went off in search of a pink belt to wear with black. If you have read this far, this whole saga may seem inconsequential, but the ensuing internal monologue was anything but.
Oh, here's a bright pink belt! Fun! But d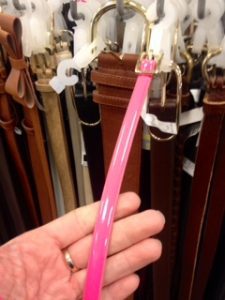 o you really need this? You shouldn't be frittering money away, especially during Lent. It's not like you haven't been  generous lately. You've left big tips at the coffee shop and donated to the Catholic Appeal. So maybe you can spend a little. It's only $12.99…but that means it was probably made in a sweatshop, by little kids or desperate adults. How can you be so blithe about buying things? Remember that year you didn't' buy anything other than food during Lent and joked that you were giving up capitalism? What happened to your values?
After much handwringing and emotional flagellation, I bought the belt for this reason: it made me joyful.
Little things, bright colors, the laughter of friends who recognize exactly why I am wearing a pink – nay, rose – belt on the Fourth Sunday of Lent are all cause for me to rejoice.
It is so hard to be good, especially if you are of a personality type for which every decision is hopelessly fraught and you never live up to your own standards. I am called to be just, loving, generous, thoughtful, and kind. But I am also called to be joyful, just where and how I am. 
One challenge of growing into a heart three sizes too self-critical has been to recognize and accept that God delights in me. This shouldn't have been so hard, since I tend to find delight daily – in a warm breeze, a ripe tomato, a held hand, a pink belt. I enjoy these things, I see value in them for the goodness they bring to the world, and I appreciate that they are in my life, for however long they are.
Every time I experience delight I grow closer to knowing what God knows, to existing in the realm of perfect love for which I long. My heart is moved to joy, joy that does not ignore the problems of the world, but that values beauty more than pain.