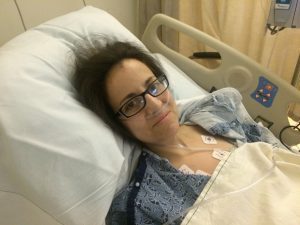 I had been working for my current employer for five years, happily paying for my portion of my insurance costs while lucky enough to not need more than a yearly exam, when I became suddenly ill. Out of nowhere I was diagnosed with an unpredictable chronic illness that I had done nothing to cause.
About five years later I was standing in my parents' kitchen, not long after the two surgeries that had finally gotten me into remission after countless tests, expensive medications and frequent trips to the doctor. I had significant out-of-pocket expenses, but paid nothing like the numbers that appeared on the bills. I asked my mother "can you imagine what would have happened if I hadn't had insurance?" I asked, thinking about financial catastrophe.
"You might have died."
I'll be honest, that hadn't occurred to me.
********
Part of the problem with our health care debate is that we are trying to talk about a million things at once. Regulations, the exchanges, individual mandate, the insurance industry, Medicare, Medicaid, the opioid epidemic, big Pharma…there's a lot mixed into the Affordable Care Act and our discussions surrounding it. I don't care to remark on all of these things, but there is one area that I have been pondering the last few weeks: I think we have moved the line on how much responsibility we have toward each other. 
Insurance works if we all work together to subsidize those who are unlucky enough to need to file claims. By requiring insurance coverage for all Americans we spread more of the cost burdens around (I write this knowing that the individual marketplace needs serious work in order to keep from inordinately burdening those without employer-sponsored insurance). By including essential health benefits in all policies it not only ensures that people won't find their health needs not covered by insurance, but that everyone is paying in to cover these services for others.
Part of the conversation we are having now is whether or not health insurance and care are important enough to our society that the government should ensure that we are all supporting each other. My comfort with that idea reveals my bleeding-heart nature, though I'm aware that the ACA is not a perfect way to accomplish this. I would say it also reveals my financial comfort, but I felt the same way when my financial situation was more precarious.
A whole swath of the country thinks regulation on insurance policies is an impingement on their freedom, and that freedom in the health care marketplace better serves the common good than the government's efforts to ensure affordable access to health care for all. (I think there is also a fringe that doesn't believe in the common good, but I'm trying to be charitable.) In an extraordinarily individualistic culture I think it is a triumph that we are even having the conversation.
As much as I want to give young people an IT COULD HAPPEN TO YOU!!! lecture about the need for insurance, I agree that it is paternalistic to use "you don't know any better" as the reason to require the healthy to purchase a policy. I think we are closer to a day when we pay into these programs in one way or another,with minimal controversy or conflict, because as a society we have agreed that this is a way we can help take care of each other.
Health in general and the Affordable Care Act in particular are endlessly complicated, and they deserve attention and discussion. As I follow the repeal efforts, I look through the lens of the common good, and think more other people do than ever before. We don't all agree not the best way to go about it, but at least we are trying to look out for each other.
What are your thoughts on the Affordable Care Act and its basic premise? (Civil comments please!)
Like what you read, or want to stay in touch? Subscribe, or catch me on Facebook, Twitter, or Instagram.