This week I will share some of the striking scenes I saw on our recent trip to Sicily.
I had never heard of the Sirocco winds until we woke up to them on our third morning in Sicily. Hot air whipped outside our window, driving the temperature up at least 20 degrees from the previous day. Sirocco winds ("every country has a different name for this phenomenon", a meteorologically-minded friend told us) are pulled up from Africa at high speeds bringing unbearably hot temperatures.
The dust flying through the air revealed this was not going to be a beach day. We decided to drive along the coast, hoping the a/c in our rental car could keep up with the heat, and that the car's tiny mass could keep up with the winds. We drove east from Cefalù along the local highway. About fifteen miles out (the roads were marked in kilometers but I am a hopeless American) we spotted a town up in the hills and were curious.
The ascent was typical of the Sicilian mountainside: hairpin turns, narrow roads, and other drivers zipping around you or nipping at your heels. The forceful wind frequently threatened our stability. Halfway through the climb my husband, who had spotted this hillside town on a ferry ride the day before, turned to me with his reporter's grin of impish curiosity and said "you didn't think I'd be able to resist finding out what was up here, did you?"
What was up there? The town of Caronia, on the edge of the Madonie Regional Park, which in light of the terrible weather seemed completely abandoned when we parked our car in the first spot we could find.
I secured my hair tight on my head and we walked up what appeared to be the main road. We passed a few shops and cafes and spotted a sign pointing toward a Castello, leading us up a narrow stone paved alley that was still meant to hold a two lanes of traffic and pedestrians. It narrowed further and become one way.
The wind picked up as we emerged from between buildings and were exposed to the mountainside. I lost my footing and grabbed onto the nearest car, using it as both ballast and shield. The wind relented. We continued.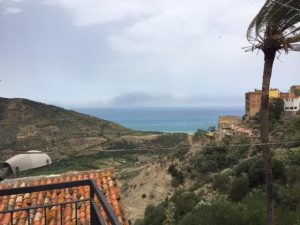 Another sign for the Castello guided us between rows of housing. We leaned into the wind on a steep incline that leveled off just before another valley vista. With one side of the street exposed the wind assaulted us again. I crouched beside a car waiting for a break before I could dash to the nearest building for cover. He went to the vista to take pictures and I thought to myself "I might be a widow in a moment", so certain was I that he would be blown off the mountain.
He met me beside the building. "We should probably turn around!" I shouted, and he nodded into the wind. We reversed our path back toward the centro, now knowing what to expect at each turn.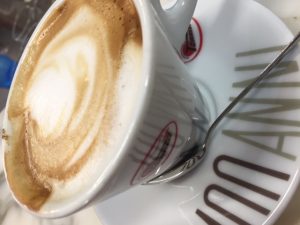 Not having seen the castello, we consoled ourselves with cappuccino, ducking into a bar. The owner looked at us like we were crazy when we stumbled in. I doubt this town sees very many American tourists, and certainly not on days with terrible weather. He made us delicious cappucini, and showed us to the restrooms. The men's room was unlocked, but the ladies room needed a key, which seemed a kind concession to keeping the women's bathroom tidy. I later discovered that the bathroom, though tidy, also stored cases of beer and had no toilet paper.
We said "ci vediamo" and walked down toward the car, pausing at a shop that had old tires painted neon colors out front, with fresh flowers popping out of the top. They had a few nice things in the window, so we entered.
The shopkeeper was talking to two women, one older, one younger, while we browsed. The store was packed with items, some modern, some classic, some peculiar (small picture frames with single letters of the alphabet in them?), and every time you turned a corner there was another unlit nook with more plates or glasses.
A brightly colored set of dishes caught our eye. We examined it and wondered to ourselves if it was made in Sicily. My husband looked at me with his look that says "you're the one who studied Italian in college", and it was decided I would ask the shopkeeper.
I was relieved that she was still talking to the two women. It gave me time to formulate my question in Italian. Unfortunately my debilitating pride makes me want to get everything right, and I often stumble in spontaneous interactions (otherwise known as conversation). The younger woman was setting up her bridal registry (lista nozze) and the shopkeeper was suggesting everything under the sun. Finally the bride and her mother left and I approached.
"Dove ha fatto questi?" I asked. Where were these made? "Italia!" the woman replied energetically. She wanted to show us some other ceramics. These are made in Italy too! And these! She took us outside to show us something in a completely different in style from our selection, because it was made in Italy.
We shook our heads and settled on the dishes we liked. They weren't made in Sicily specifically, but that would have to be good enough. We agreed to buy the items and she asked where we were from . "Gli Stati Uniti" I replied, with my husband seconding "America!" with the enthusiasm of a natural communicator stymied by the fact that he could barely understand a word of what we were saying.
She put her hand to her face in surprise, then looked me up and down. "But you," she continued in Italian "you must be from Italy". Yes, my family was from Italy, I replied, and Sicily, actually, but I learned Italian in university, we didn't speak it at home. (At this point my husband was video-recording our conversation because he loves when I speak Italian. Watching it later I cringed. I really need to brush up on my skills.)
She gestured that we should see something else. I demurred, but she insisted. She took us into a little corner and flipped on a light so we could see the rocks and bricks behind plexiglass. There was a statue of Mary, and some trickling water. She told us stories of the bakery that used to sit on that site, before bringing us back the register.
Her name was Maria Rosa, she told us, but everyone called her Rosata. She would love to go the US someday, but her most recent trip had been to Medjugorje with her youngest daughter Francesca (at this, my husband's patient ears perked up, hearing the same name as his niece amid the stream of Italian with which I was barely keeping up).
As she rang up our purchase she kept saying "wait!" and going to the side of the register to get us different candies to try. "These are hazelnut flavor!" Then while the credit card machine was processing, another treat. She urged us to stick our fingers into the boxes and pull them out.
When we left the store the winds were lighter and we reached the car without incident. Leaving the town we saw a tiny fire on the mountain and took a picture, commenting on how the heat probably stoked such fires. It was only mid-morning, so we continued our drive to a popular beach town. Capo d'Orlando was deserted but we found an open trattoria and settled into the corner.
The waiter commented on the heat, and on the fire keeping everyone away. I asked where the fire was, thinking of the one we had seen. In the center of town, he said. We had been nowhere near the centro.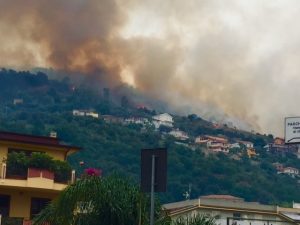 After lunch we decided to return to Cefalù. We found the highway but also found fires everywhere – above the lengthy tunnels that pass through mountains, in populated towns and grassy mountainside. We found people standing on their porches spraying smoldering grass with water from a hose. We were almost back when a detour took us off the highway, now closed due to the fires, which we soon learned was being called "incendio" by the local media and authorities.
We took the backroads into town, where people were walking around with their mouths covered to keep the smoke and ash out. I broke the cardinal rule of vacation and turned on the TV, where RAI had their anchor sitting in front of a graphic of raging fire with the caption "Flames of Fear".
The head of the Madonie Regional Park did a phone interview, nearly shrieking. "These fires were set! Only children believe in spontaneous combustion! The Mafia did this!" Having recently been threatened by organized crime, he was convinced these fires were a plot to punish the Madonie.
In the subsequent hours the flames came under control, and the next day the Sirocco winds died down. I have tried half-heartedly to follow the investigation into the incendio but haven't found much. Mostly I keep thinking of Rosata and her trickle of water, wondering how close the flames got to her shop.