If there is such a thing as emotional-maturity-backsliding, and I believe there is, I have been doing it in spades the last few weeks, and it has involved other women.
First I saw a tall woman with stylish hair and fabulous cheekbones while I was out shopping in my rumpled coat and goofy hat. A few minutes later another elegant woman crossed the street in front of me. Even as I was driving past her I could see that she had one of those impossibly symmetrical faces with clear, glowing skin that you just want to stare at for days.
And then at yoga, the one place where I shouldn't be comparing myself to others, I plopped down my worn, discolored mat next to a slim blonde who must have been a dancer. She was graceful and beautiful and to top it all off, she could do a headstand. The whole room stopped to look at her. I'm sure it was a feeling she was used to.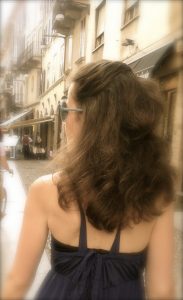 There was a time when I thought I was hideous, though I know now that I never was. It took me longer than most to learn how not to dress like a farmer, and longer still to learn how to manage my hair, but once I did I could pull myself together fairly well.
Still, I look at those exceptionally lovely women with rue: no one will ever stop and take that long, longing look at me. No one will ever be caught staring. I will be safely ignored by everyone else in yoga class.
I don't know why this matters to me. I know that pulchritude does not equal happiness. I know that I have been marvelously successful in my own average skin. I know that I am loved.
Is it something that all women want, one way or another? To be noticed, to be regarded, to be envied, even? Do men want this too?
The last thing I want or need is to have these thoughts invalidated by replies of "but you are pretty!" I truly believe that I am – and that all of you are too – but I know I have never been pretty like that, and for the sake of the younger me I wish I had been once.
I wish I had had just one or two moments when I felt the world stop just because of the color in my cheek, the glint in my eye, or the way I carried my slender self. I am happy and lovely and loved, but I wish I had been beautiful.