Today is the Feast of St Ignatius. Tonight I will leave for Zambia to help facilitate an Ignatian Identity Workshop with African educators in Jesuit schools. This reflection on Ignatian Spirituality, in two parts, is adapted from a talk I will give as part of the workshop. Have a blessed feast day, and come back tomorrow for part two!
As I think about my experience with Ignatian Spirituality I am struck by how often the major principles of this spirituality matched up with what I found myself doing naturally. The words of Ignatius and the Jesuits helped give language to many things that I already saw in my life. Rather than feeling as if this paradigm asks me to change, I feel as if enriches and enhances what I already do as a person of prayer and mission.
Before I get too into deep ideas like "prayer" and "mission" I need to tell you story about my mother. She's never been one to go in for fancy technology, so when they came out with the disposable camera she jumped on the bandwagon. Nothing to focus, no film to remove, just that satisfying "click click click" of the thumbwheel as you advance the film after each shot.
For years there was always one of these around the house, and my mother was ready to snatch it up at a moments notice. Sometimes the tomatoes on the window ledge were a shade of red so devastating she had to capture it, or the crocuses had arrived at the one weekend in the spring when they were in perfect bloom. The woman would take pictures of anything, and you never knew when she was going to strike.
When I was growing up I didn't know a Jesuit from a jack-in-the-box. My family was Catholic and we attended your run-of-the-mill Catholic parish, staffed by diocesan priests. We went to mass every Sunday, volunteered in religious education, taught summer Bible School, got to know our neighbors, and worshiped God. It was all very "normal", or at least seemed normal to me because I lived it.
My first experience with the Jesuits came when I was 17 and left home to attend a Jesuit college. I threw myself into the religious life of the school – singing at mass, taking religion classes, and participating in the service and retreat activities run by campus ministry.
My first year I signed up for what was called the "Busy Student Retreat", well marketed to a busy over-achiever like myself. This was a retreat based on the Nineteenth Annotation of the Spiritual Exercises, or the exercises in every day life. It asked me to meet with a director once a week and pray every day. I didn't have to go anywhere other than the chapel for an hour on Thursday. I didn't have to put anything on hold. There were people working at the college willing to help me meet God exactly where I was. I could be a Contemplative in Action, and get some help with the contemplative side, which came less easily to me.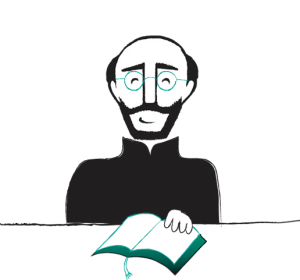 This was the first time I got the sense that the Jesuits were on to something that was going to work for me. I saw the priests and brothers, as well as the lay staff steeped in Ignatian Spirituality, zipping around campus all day, accomplishing things, being the type of productive, impressive person I wanted to be. But I wanted more than just ambition and accomplishment – I wanted to be a good person. I wanted to be in relationship with God and others, and the Jesuits practice of spirituality in everyday life had helped them balance contemplation and action. I had a lot to learn.
Do you see traces of Ignatian Spirituality in your life? Visit back again tomorrow for more in my ongoing story of being surprised by Ignatius. 
Image: By Rept0n1x (Own work) [GFDL or CC-BY-SA-3.0-2.5-2.0-1.0], via Wikimedia Commons