Two weeks at a music festival is enough to have any soprano singing "The Desire for Hermitage", so it was fitting that I left my trip to the Eremo delle Carcieri for the beginning of our third week, after a whirlwind trip on a steamy bus to sing at the Vatican.
The Eremo, or hermitage, is a centuries-old place of prayer and retreat. St Francis would trek up Mount Subasio to pray when life in Assisi was too hectic. Some friars followed him to pray in isolation, and eventually a monastery was built on the peaceful, verdant grounds.
We bickered too much on the way up to the hermitage to call it a pilgrimage. I was eager for a workout, and I got one. We walked to the highest point in Assisi, exited the walled city through the Porta dei Cappucini and began our ascent. The road was quiet and flanked by olive trees; as we walked higher evergreens gave us shade.
About 2.5 miles (forward) and 1000 ft (up) we saw a steep trail of rocks that allowed us to bypass yet another long curve in the road. At the top was a cross, and another hill.
Onward we walked, our aggravated squabbling having given way to a sweaty silence.
Naturally, the first sign that we were reaching a place of pilgrimage was the kiosk selling souvenirs. We passed the men offering espresso, postcards, and taxis and entered the hermitage. An even, shaded path drew us deeper in to the forest.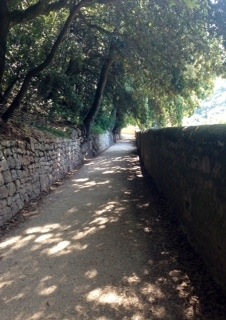 Signs everywhere demanded "Silenzio". We took a trail that could have been in any nature preserve, cleared through brush with helpfully place steps. The shade and breeze rejuvenated us so we went further up the side of the mountain before our trail ended and we headed back down.
The next path we took was lined with grottos. The first we came upon had rows of benches in front of it – a sure sign that it is of some significance. This one was in honor of Mary from the time of St. Francis. We sat for a moment and offered our silent prayers. Turning back toward the church and the entrance we passed more grottos.

What would our lives be like if every path were lined with stops for prayer?
The church, built over time to serve the friary, but developed mostly under Bernardino di Siena in the 1400s, is like many in Umbria: small, dark, with frescoes and statues. Down a tiny set of stairs one can visit the cave to which Francis is said to have escaped in prayer. What might have driven him there? And what might he have found within its shadowy jagged walls?
Our explorations complete, we began our descent in hotter sun than when we began. All the way down other walkers would stop us and with a look of desperation ask how far it was to the Eremo. I was happy to tell the first few that it was close, but as we got farther I kept having to break bad news.
When we were about to emerge from the shelter of the evergreens near the edge of town, three young women, one in nun's robes, approached us laughing jovially the way friends do on an adventure. They asked how close they were, and I told them. I was prepared for three grimaces, but their happy faces didn't change. All three stuck their thumbs out.
In no time a black van pulled over and offered a ride up the mountain. The two women with their backpacks leapt in, and the nun swished her robes into the back seat. Then the driver sped off toward a world that doesn't exist anymore.