Yesterday I shared the first part of my experience of being surprised to find that Ignatian Spirituality was a part of my life long before I knew anything about it. This piece is adapted from a talk I will give at an Ignatian Identity Workshop in Lusaka, Zambia next week. Thanks for reading, and please pray for our travels and our work!
A few years after my first Ignatian retreat experience I attended a longer retreat: five days of silence near the ocean. This came near the end of my time at university and I didn't know where I was going next. I had some choices, and some limits, but no strong dreams or goals. One morning in prayer, all anxiety about the future, I looked out at the ocean and imagined myself held up by the gentle waves. This was God, holding me up, supporting me and guiding me as tenderly as the northern waves lapped the shore. In that moment I believed that I could recognize when it was God tugging me along, and when I was splashing in the wrong direction.
The day I returned from the retreat I found a flyer on the door of my student apartment. It asked for fulltime volunteer teachers at a Jesuit school for boys whose families couldn't afford other private schools. Standing on the icy stoop with my key in my hand, I slowly pulled the masking tape from the door and looked more closely at the flyer. The job it advertised combined many of my interests and gave me an opportunity to serve. It felt perfect. God was tugging me.
That image of God tugging me on the wave, and the practice of looking for God in that way, guided me for years after that. Imagine my surprise when I learned that this was an example of Ignatian Discernment. When I learned about this concept in a workshop I thought: consolation. That's what I was feeling. My practice of observing my feelings and reactions and letting them guide me was Ignatian, and I didn't even know it.
That same workshop introduced the phrase AMDG, For the Greater Glory of God. I struggled with this one. It felt a little too much like a bumper sticker. How could it touch my life? Even if I set it as a goal – to always be pointing beyond myself, to Christ – wouldn't I just be setting myself up to fail? I'm not humble enough. I'm not good enough to glorify God.
St Irenaus, a bishop in the 2nd century, is known for claiming "The glory of God is the human being fully alive". That is the place where discernment meets AMDG. By trying to find a plan for my life, and by focusing my career and life on the two things that bring me the greatest joy – music and theology – I was allowing myself to flourish. I could bring energy and love to my work and play, and in doing so glorify God.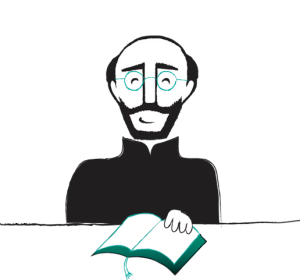 As I learn more about Ignatian Spirituality I am still surprised by Ignatius. I find that his way of proceeding has been mine, even before I knew how neatly they fit together.
Which brings me back to my mother's photos. Though I use more sophisticated technology, I share her delight in a well-ripened tomato and the crocuses in first bloom. I have her to thank for my tendency to Find God in All Things, the last Ignatian element I'll mention today. There is holiness and grace in every created thing, and my earliest lessons were in learning to see that grace and to delight in it. Ignatian Spirituality gave me language to describe this gift, and a tradition of prayer and learning to aid me in growing ever closer to God.
What gives you the words to describe your spiritual life?
Image: "St. Ignatius A.M.D.G.". Licensed under Wikimedia Commons.